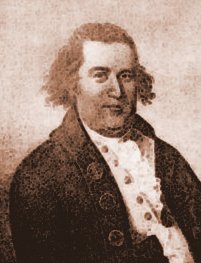 (1745 – 1799)
Occupation: Leather Tanner and Quartermaster
Class: Middling
Allowed in the OSH? Yes. Allowed on the Second Floor? No.
Political scale: 10

You are the "average joe" of the three who make the "midnight ride" from Boston to Lexington on April 18, 1775.
When you marry your wife, Mehitable May Dawes, you wear a suit made entirely in America, in support of the boycott of British goods. The Boston Gazette notices you for it.
* Your tanning business demands frequent travel in and out of Boston. During the Siege of Boston you get to know the sentries guarding the entrance to the city.
* You are also good at playing the fool and acting like you don't know anything.
* These factors make you ideal for carrying Patriot messages because no one suspects you.
* Doctor Joseph Warren chooses you along with Paul Revere as one of the riders to gallop to Lexington to warn the Patriots that the British army is on the move. Your assigned route is over Boston neck, by the checkpoint. You pass through easily.
* Between Lexington and Concord, you, Revere, and Prescott are caught, but you get away and shout, "I've got two of 'em!" in an attempt to confuse the Regulars.
* You later become a Quartermaster in the Continental Army, responsible for providing supplies to the troops.
*Was an astronomer 1788-1791.

Social Connections: Joseph Warren, Paul Revere, Samuel Prescott, Samuel Adams, John Hancock.