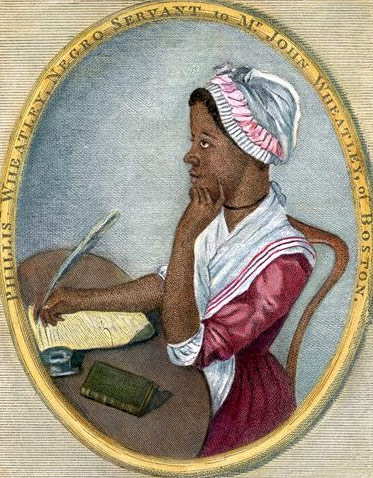 (1753?-1784)

Occupation: Poet and slave Class: slave
Political scale : 5
Allowed in the OSH? No.
 You arrive in Boston as a slave when you are about seven. By the time you are twenty, you're an internationally-known poet.

· "Phillis" is the name of the slave ship that brings you from West Africa. Like most slaves, you are given the last name of the family who buys you.
· The Wheatleys notice your intelligence and tutor you, leaving your chores for their other slaves.
· The Wheatleys are very interested in educating women, for their time. It is their daughter Mary who tutors you. You learn to read and write in English, and read Greek and Latin.
· You begin publishing poetry in Boston newspapers in 1767. You become well-known in Boston in 1770, when you publish a poem on the death of the preacher George Whitefield.
· Most of your poetry is on Christian subjects. You are influenced by poets such as Milton and Pope.
· In 1772, a group of prominent Bostonians, including both John Hancock and Thomas Hutchinson, examined your work and attested that it was your own, in response to people who doubted that an African woman could write the way you could.
· While you are still a slave, your book of poems, "Poems on Various Subjects, Religious and Moral" is published in London. Selina Hastings, Countess of Huntington, a friend of the late Reverend Whitefield, invites you to London, and you travel there to promote your book.
· You are later freed, perhaps because of pressure from your British admirers. You plan a second book, but it is never published.
· In 1778, you marry John Peters, a free black man. Despite your literary fame, the two of you live the rest of your lives in poverty. You have three children, none of whom survive childhood.
· Only one of your poems made a mention of your condition as a slave – "On Being Brought from Africa to America" -- but it is the most remembered after your lifetime.
Social Connections: George Washington was one of the many who met her and praised her poetry., Mary Wheatley (tutor), Mather Byles (patron)