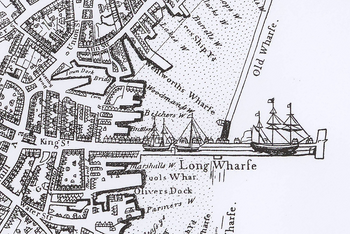 King Street was one of the major streets in Boston. Located in the center of town, it connected Cornhill street to Long Wharf, the largest port in New England.
Along king street were merchant's shops selling a wide variety of goods and imports. Further up the street toward the Town House where a number of important civic buildings and public houses that catered to the wealthy. In this vicinity stood the Royal Customs House, which would later be known as the scene of the Boston Massacre.
The name King Street arose some time in the 18th century. Before that it had been known informally as "the main street" or "the wharf street". Today, the street is called State Street, in reference to the State House. The name King Street was changed after the revolutionary war began, along with any other place-names that referred to monarchs.