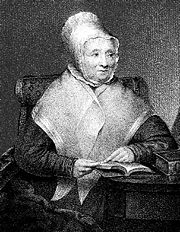 (1755-1831)
Occupation: Writer, Teacher
Class: Middling Sort
Political Scale: 6
OSH Clearance: Not allowed
You are a tremendously intelligent woman who takes every opportunity for self-improvement and becomes the first female professional writer in America.
Your mother dies when you are very young and your father's fortunes fail so he is forced to take in and tutor young students.
You study Greek, Latin, and Religion along with the students who rent rooms in your house.
Learning quickly, you are soon able to tutor young men yourself.
During the Revolution you support your family by making lace, teaching, and writing.
You achieve literary acclaim with a book about world religions which makes you a sought-after celebrity dinner guest throughout New England.
Social Network:
Thomas Adams (father)
John Adams (distant cousin)
Abigail Adams (house guest)